WHAT'S IN THE BOX?
Your new GTR Carbon 2in1
Fast charger
R2 Remote, leash, remote case and charging cable
Accessories carry case
Y tool
Spare screws set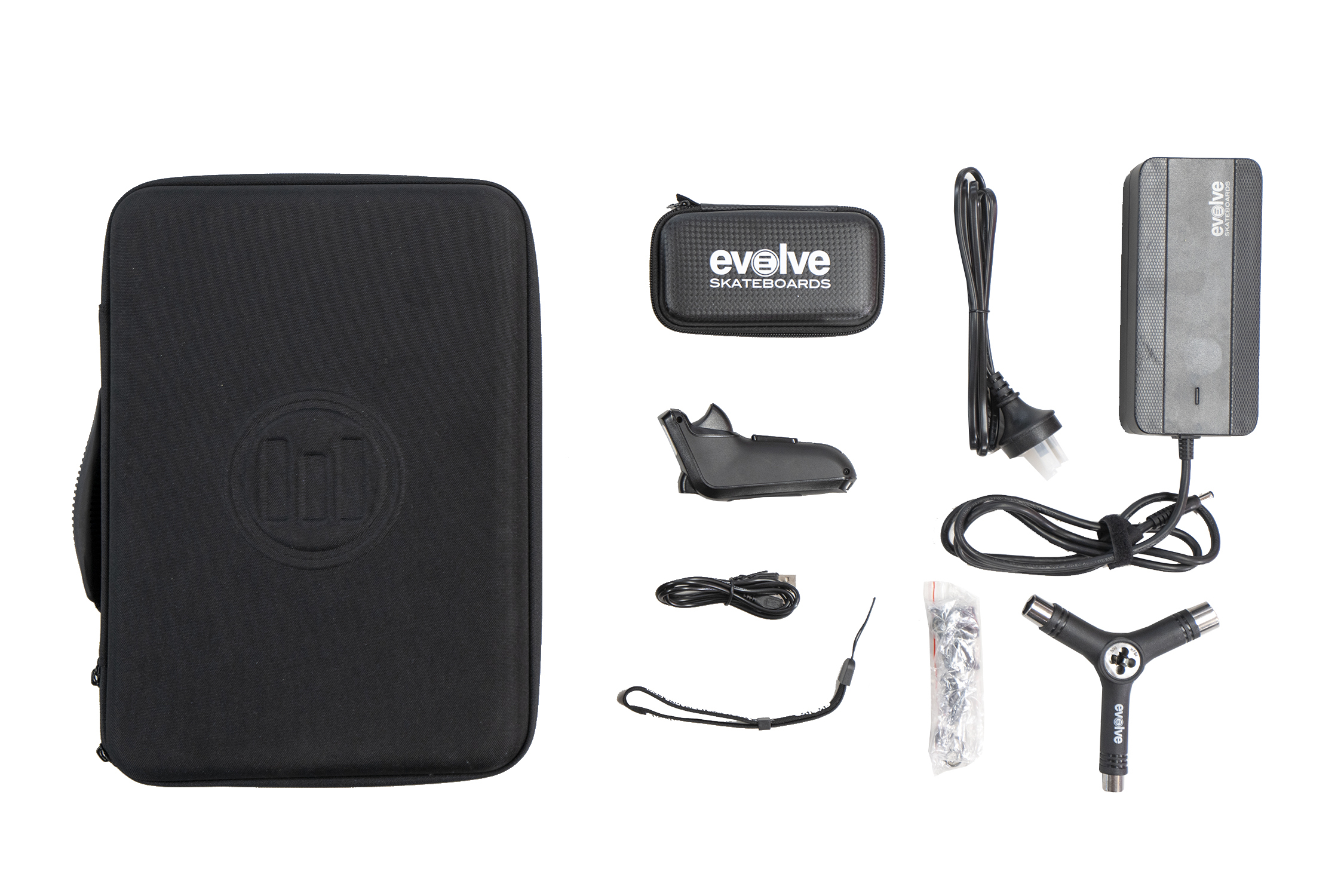 What Are Riders Saying About The GTR All Terain
100%
of reviewers would recommend this product to a friend
| | |
| --- | --- |
| Quality | |
| Performance | |
| Technology & Features | |
Worth the money
Challenging but achievable. Braking makes all the difference.
Id say there is a niche for a much cheaper board that just has radio controlled braking.
Gobbles up hills with ease.
Wanted to use as a commuter vehicle but rain and puddles has stopped that today.
Why not offer a water proof upgrade, ceramic bearings and water proof case.
Fears about damaging such a big investment with water is a downer.
| | |
| --- | --- |
| Quality | |
| Performance | |
| Technology & Features | |
Exciting Commute
I got the 2 in 1 to do some off road, but so far I have only been using it to go to work. So practical, fast, and park it at the desk. I even went home for lunch just to get a ride on a fine day.
| | |
| --- | --- |
| Quality | |
| Performance | |
| Technology & Features | |
Awesome performer
Board has great feel handling and stacks of power. A thrilling ride Just having issues with grip tape coming unstuck.
| | |
| --- | --- |
| Quality | |
| Performance | |
| Technology & Features | |
Reclaiming my youth - winning at life!
Purchasing my Carbon GTR 2 in 1 is one of the best decisions I ever made. I started skateboarding in 1976 and have always loved the flowing feeling that comes with riding a skateboard. I've had a few boards over the years, but nothing comes close to the enjoyment I get from my GTR knowing that I can go so many places that were not previously possible. The sheer power, responsiveness, braking, AT wheels, battery longevity are all absolutely first class and I couldn't recommend this board more highly.
I did have two minor issues: Two small pieces of grip tape behind my rear foot position detached after my first off-road ride which was quite muddy. And the cap for the charging port tends to drop out too easily, but these are minor issues which can easily be resolved, and as such are no big deal compared with the sheer exhilaration of riding such a robust and brilliantly engineered skateboard.
| | |
| --- | --- |
| Quality | |
| Performance | |
| Technology & Features | |
Carbon GTR
Great board which lives up to the expectation. AT wheels are a lot of fun. On line Evolve videos on maintenance are very helpful.
| | |
| --- | --- |
| Quality | |
| Performance | |
| Technology & Features | |
Customers Who Bought This Item Also Bought